Program Mission Statement
_
Program Mission

Statement
Cozy Time in Toronto Montessori Academy enriches children with an abundant curriculum in an environment that enables them to develop to their fullest potential.
We aim to provide families with a safe and developmentally age appropriate environment for children from infancy to 6 years of age. Our focus is to present a stimulating and educational experience, rich in potential that will promote the social, emotional, physical and cognitive development of each individual child and to support our students' desire to be life-long learners.
Our program is based on the Ministry's policy statement on programming and pedagogy of "How Does Learning Happen" which focuses educators to strive and shape our children into being competent, capable, curious and rich in potential. We have organized our program to be built around the four foundational conditions that are important for children to grow and flourish: Belonging, Well-Being, Engagement, and Expression. These foundations, or ways of being, are a vision for all children's future potential and a view of what they should experience each day.
This philosophy, alongside the Montessori curriculum, allows children to grow independently and gain positive learning habits that stick with them for their entire life.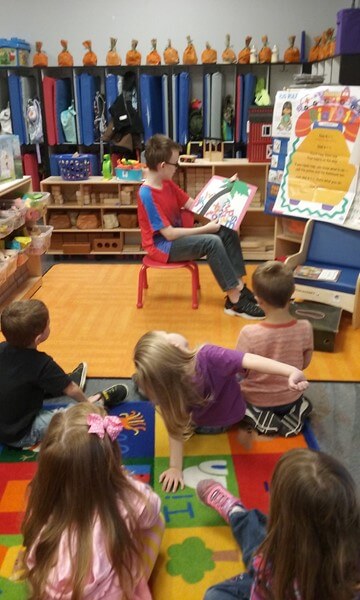 Art is not a handicraft, it is the transmission of feeling the artist has experienced.
Belonging:
Belonging refers to a sense of connectedness to others, an individual's experiences of being valued, of forming relationships with others and making contributions as part of a group, a community, and the natural world.
Well-being:
Well-being addresses the importance of physical and mental health and wellness. It incorporates capacities such as self-care, sense of self, and self-regulation skills.
Engagement:
Engagement suggests a state of being involved and focused. When children are able to explore the world around them with their natural curiosity and exuberance, they are fully engaged. Through this type of play and inquiry, they develop skills such as problem solving, creative thinking, and innovating, which are essential for learning and success in school and beyond.
Expression or Communication:
Expression or Communication (to be heard, as well as to listen) may take many different forms. Through their bodies, words, and use of materials, children develop capacities for increasingly complex communication. Opportunities to explore materials support creativity, problem solving, and mathematical behaviours. Language-rich environments support growing communication skills, which are foundational for literacy.  Read more